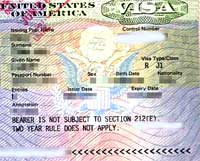 Do You Qualify for a
Work Visa?
Every fiscal year (October 1st – September 30th), approximately 140,000 employment-based immigrant visas are made available to qualified applicants under the provisions of U.S. immigration law. Employment based immigrant visas are divided into five preference categories. Certain spouses and children may travel together with those who receive employment-based work visas.
It's not luck that determines if you will receive a work visa or not. It comes down to whether or not your application is filed on-time, filed correctly the first-time and filed quickly.
It's best to use an attorney that has experience dealing with the United States Customs and Immigration Service (USCIS). That's where the Crossley Law Office comes in.
Over the years we have successfully helped clients obtain green cards, work permits and visas. We understand how to file the applications quickly, correctly and successfully. Whatever your immigration law needs are, the Crossley Law Office can help you.
Contact us on-line, call us at (508) 655-6085 or complete the form below to schedule your FREE initial consultation to see if you can qualify for a Work Visa.