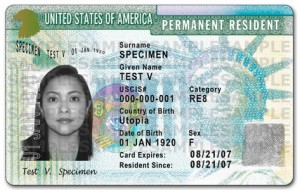 Who is a Green Card Holder? (Permanent Resident)
A Green Card holder (permanent resident) is someone who has been granted authorization to live and work in the United States on a permanent basis. As proof of that status, a person is granted a permanent resident card, commonly called a "Green Card." You can become a permanent resident several different ways. Most individuals are sponsored by a family member or employer in the United States. Other individuals may become permanent residents through refugee or asylee status or other humanitarian programs.
Even if you are simply trying to obtain a green card through marriage the process is an extremely long and complicated one. It's best to use an attorney that has experience dealing with the United States Customs and Immigration Service (USCIS). That's where the Crossley Law Office comes in.
Over the years we have successfully helped clients obtain green cards, work permits and visas. We understand how to file the applications quickly, correctly and successfully. Whatever your immigration law needs are, the Crossley Law Office can help you.
Contact us on-line, call us at (508) 655-6085 or complete the form below to schedule your FREE initial consultation.
If you'd like to learn more about the fast track to permanent resident status please click here.