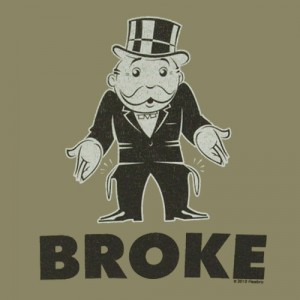 Both CNN Money and YAHOO Finance are reporting that in 2012 hundreds of thousands of Americans are expected to be in such difficult financial situations that they can't afford bankruptcy.
Both articles report that the average cost to file for Chapter 7 bankruptcy protection, the most common form of consumer bankruptcy, is more than $1,500, according to recent research submitted to the National Bureau of Economic Research.
Among those fees is a charge of about $300 just for filing the paperwork with the federal court. And there are other expenses on top of that, including fees for mandatory pre-bankruptcy credit counseling and a pre-discharge debtor education course. These average about $85 altogether, according to a recent study sponsored by the American Bankruptcy Institute.
As a result, anywhere between 200,000 and one million consumers are estimated to be unable to afford that steep cost in 2012. They estimate that another 200,000 consumers, who would otherwise not have enough money to file, will use their tax refunds to pay for bankruptcy this year.
That's why here at the Crossley Law Office we charge a fair and reasonable fee to prepare and file your Chapter 7 bankruptcy for you.  While many other Massachusetts law firms are charging between $1,800 and $2,500 (not including filing fees) for a consumer Chapter 7 bankruptcy filing we only charge $1,250. This is nearly the same fee for standard consumer Ch. 7 bankruptcy cases that we charged back in 2003. Why? Because it's a fair and reasonable fee to charge people who are struggling through increasingly difficult economic times.
Including the mandatory Bankruptcy Court filing fee and other expenses (see above) the total cost to you is about only $1,600. Other attorneys are likely charging between $2,000 and $2,500 for the very same service.
Thinking about filing for bankruptcy on your own?
"Think twice before you decide to go it alone," said Gerri Detweiler, director of consumer education for Credit.com.
"It's too complicated now, and too much of a minefield. Make a mistake and your case is dismissed," she said. "A dismissed bankruptcy hurts your credit just as badly as one you complete. So you have all the downside without the fresh start."
She also warns against low-cost document preparation services claiming to help consumers fill out necessary documents. It's easy for consumers to think they're getting sound legal advice even though the preparers aren't lawyers, she said.
Don't make a costly mistake. For a FREE bankruptcy consultation contact the Crossley Law Office on-line, fill out the contact form below, or call (508) 655-6085 today.
To read the rest of the CNN Money article please click here.